Come From Away is pleased to offer a relaxed performance on Sunday, May 26th at 2:00pm at the Elgin Theatre in Toronto.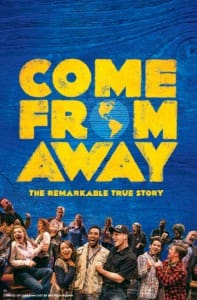 WHAT IS A RELAXED PERFORMANCE?
Relaxed performances welcome patrons of all ages and their family and friends, including those on the autism spectrum, with a sensory or communication disorder, ADD/ADAHD, a learning disability or anyone who would benefit from a relaxed atmosphere.
HOW IS THIS DIFFERENT FROM A REGULAR PERFORMANCE?
Patrons can move around, light and noise intensities may be decreased, house lights will stay partially lit and a quiet space is available for anyone who wants a break. A visual venue and performance guide will be sent out to ticket purchasers before the performance.
The performance is 100 minutes with no intermission.  The show will end at 3:45pm.
ACCESSIBILITY AT THE ELGIN THEATRE:
The theatre is accessible to patrons using mobility devices, with the exception of the mezzanine.
Elevators take patrons to different levels of the theatre.
Elevators can take one to the lowest level of the building where there are additional bars and accessible washrooms.
The Elgin is equipped with an infrared hearing enhancement system.  This service is available at Concessions in the main lobby.  For this service, patrons are required to leave a piece of identification with theatre centre staff. Your identification will be returned to you on return of the hearing device.
Service animals are welcome.
FOR TICKETS CALL: 416-872-1212 or 1-800-461-3333 or buy online.