Is an addiction and/or mental health history holding you back from a career in the construction industry? This free program at George Brown College combines classroom study and work experience while providing recovery support to students.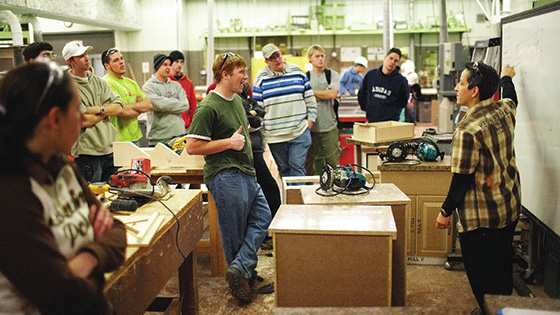 2019 deadline to apply for George Brown College's Construction Craft Worker Foundations Program (A106) is Friday, February 15th.
Click here for more information: 2019 Program Flyer – Construction Craft Worker Foundations Program
Click here to download the Application form: 2019 Application – Construction Craft Worker Foundations Program – Deadline February 15, 2019
The Construction Craft Worker Foundations Program is one of two streams of free programming offered under Augmented Education, which is an employment focused, supported program that helps individuals with mental illness and/or addictions histories prepare for, find and maintain employment in the construction industry. Augmented Education integrates job-focused education and training, industry recognized certification, academic support and post-program employment and support.
The Construction Craft Worker Foundations Program runs from early April to late August (5 months in length). In it, students will complete approximately 30-35 hours per week of classroom and construction lab instruction. Students are taught a wide range of theory and hands-on skills including math upgrading for building technologies, construction safety, tools and equipment, woodworking, blueprint reading, metal cutting and building reinforcement. Through the program, students will receive the following certifications, which are valuable for working in the construction industry:
Working at Heights
Elevated Work Platform Safety
Propane Safety
Powder Actuated Tools
Asbestos Awareness
Worksite Traffic Control
Forklift Safety
Skid Steer Safety
Emergency First Aid
WHIMIS
In order to graduate from this program, students will be required to complete 160 hours of work placement, with the help and support of a Job Coach/Job Developer. Upon successful completion of the program, students receive their Ontario College Certificate qualifying them for entry-level general labourer positions such as a construction labourer, carpentry helper, masonry helper, cement finishing helper, demolition worker, road and sewer worker, warehouse forklift driver or construction retail associate.
HOW TO APPLY
Applicants must attend an information session. Information session dates and registration can be accessed online at https://www.georgebrown.ca/a106_info/.
Applicants must complete the application package (attached).
In addition to the application package, the applicant must include a copy of their resume as well as a letter of support/reference letter from a support worker or healthcare professional summarizing the client's mental illness and/or addiction diagnosis and a rationale of why the client would be a good fit for our program.
Completed applications can be mailed, faxed, e-mailed or dropped off in-person at our office at 200 King St. E, Room 524A. Please find our contact information included in our signature below.
Upon submitting the application package, the applicant should contact the Augmented Education office at 416-415-5000 x6790 or auged@georgebrown.ca to confirm their package was received.
Following the application deadline, all applications will be reviewed and applicants will be contacted regarding next steps in completing three intake assessments.
Should you have any further questions about our programming, please do not hesitate to reach out to George Brown College.
Augmented Education Programs
St. James Campus
200 King Street E, Room 524A
Toronto, ON M5A 3W8
Casa Loma Campus
146 Kendal Ave, Room D304
Toronto, ON M5R 1M3
Tel: 416-415-5000 x6790
Fax: 416-415-2870
Email: auged@georgebrown.ca
Click here for more information: 2019 Program Flyer – Construction Craft Worker Foundations Program
Click here to download the Application form: 2019 Application – Construction Craft Worker Foundations Program – Deadline February 15, 2019