We want to hear from you!
If you'd like to leave us feedback, comments, issues or concerns, please fill out this form online.
Or print this form out and send it to us. We Want to Hear from You
Contact Us
Community Living Toronto
20 Spadina Road
Toronto, ON M5R 2S7
647-426-3220
For our Information and Membership Services* (formerly Access and Information), contact: 647-426-3220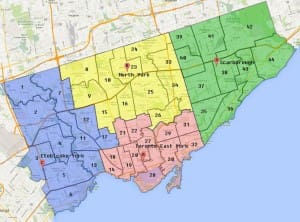 Community Living Toronto is split into four different regions. If you'd like information on a specific program or volunteer opportunity in your area, contact your regional membership or volunteer coordinator.
Central
Frances MacNeil
Regional Executive Director
647-729-1150
Michelle Grimley
Membership Coordinator
647-729-1210
---
Etobicoke/York
Joe Persaud 
Regional Executive Director
647-729-0466
Eric Laimer
Membership Coordinator 
(416) 414-1593
---
North York
Joe Persaud 
Regional Executive Director
416-225-7166
Wendy Dyke
Membership Coordinator
647-729-3627
---
Scarborough
Sue Lynch
Regional Executive Director
647-729-3654
Felicita Zanatta
Membership Coordinator
647-729-1635
---
Corporate Services
Brad Saunders
Chief Executive Officer
647-729-1168
Flavian Pinto
Chief Financial Officer
647-729-1196
Angela Bradley
Director | Resource Development and Marketing
416-509-1596
Matthew Poirier
Manager | Policy and Stakeholder Relations
647-729-1179
James Janeiro  
Director | Community Engagement and Policy
437-236-2966
*Please note, aside from Life Plans and Respite, Community Living Toronto does not take applications for individuals over the age of 16.
All applications for residential, community participation and case management for those over the age of 16 must go through Developmental Services Ontario, who can be reached at 1 855 372-3858.
Contact the webmaster:
webmaster
MEDIA DISCLAIMER 
In return for being permitted to participate in a Community Living Toronto event, I consent to the use of my name, likeness, voice, voice likeness, and the taking, use or publication of any photograph, video, audio, or video and audio recording of me by or on behalf of Community Living Toronto or its advertising and promotional agencies in all forms of media whatsoever, including newspapers, magazines, radio, television, DVD, film and the Internet now or hereafter known throughout the world in perpetuity without further compensation, permission or notification.  I agree that Community Living Toronto is the owner of any such photograph, video, audio, or video and audio recording.  If I am signing a release as a parent or guardian of a child/children under 18 years of age participating in or attending a Community Living Toronto, I provide this consent on behalf of the child/children.
PRIVACY STATEMENT
Your privacy is important to us.  Any personal information you provide may be used to fulfill your requests for information, to assist in providing supports and services and to keep you up-to-date on important issues, volunteering or fundraising opportunities.  Our Privacy Principles are available from our Privacy Officer at 416-968-0650 or privacyofficer@cltoronto.ca