On June 7th, Ontario will head to the polls and elect a new government. We'd like to share with you a number of pre-election resources.
Community Living Ontario has launched a website that's filled with useful resources including party platforms and voting information. You can find it all here: https://notinmyontario.ca
Community Living Toronto has put together an easy to read report card of platform promises from each of the four major political parties as they pertain to developmental services and 4 key areas: poverty, waitlists, Passport and investment in community agencies. The report card is attached to this email for your reference. All of the information was pulled from party websites and will be updated as further announcements are made.
If you have questions about voting, registering to vote, your polling station, etc. please visit the Elections Ontario website. We hope you mark your calendars for June 7th and get out the vote!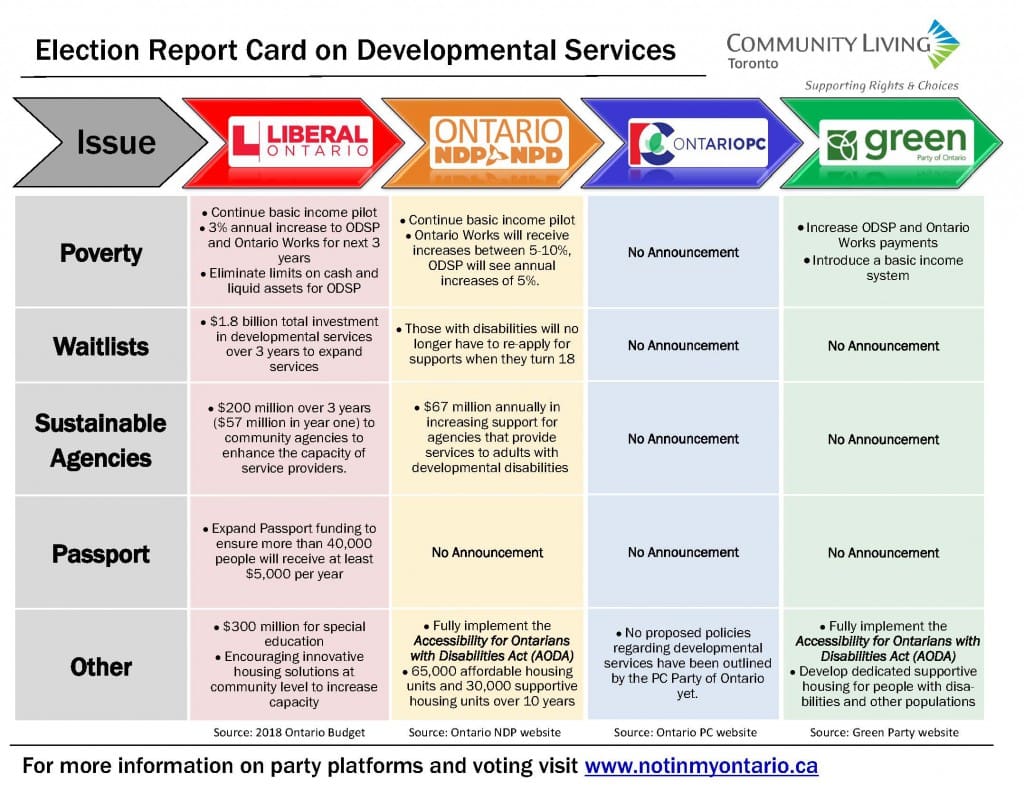 Download this Election Report Card in PDF here: 2018 Provincial Election Report Card on DS
On May 24th,  Community Living Toronto co-hosted an Election Forum with Community Living Ontario and Reena. There were representatives from the Liberal Party, the NDP and the Greens present. The Progressive Conservative Party was offered a seat at the table, but declined to send a candidate. "Their absence speaks volumes," said Matthews, who later went on to speculate that the PCs may be 'ashamed' of a platform that may not offer much for the developmental services sector.
Candidates had seven minutes to give opening statements on their parties' stances on several key areas related to developmental disabilities in Ontario, such as poverty, waitlists for the transition from child to adult services, and affordable housing, before each having two minutes to respond to each of a set of seven related questions submitted by forum attendees.
Watch the full forum here: