Nearly 10 years ago, Huronia, Rideau, and Southwestern Regional Centres, the last large government-run institutions for people labeled with an intellectual disability, closed forever.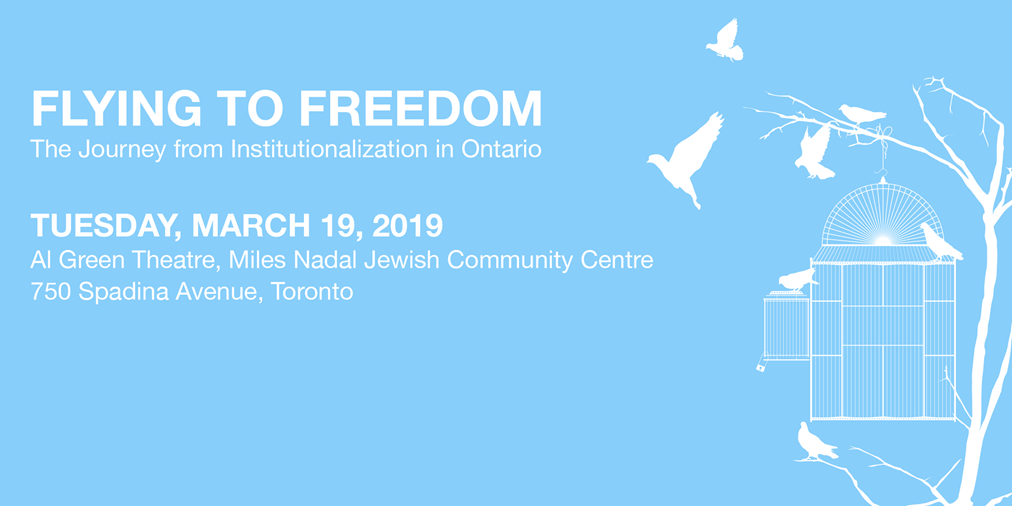 We know that creating and maintaining such institutions was one of the most harmful things we have done as a society. Despite the doors of the institutions having been closed for nearly a decade, institutionalization remains.
People continue to struggle. Harmful and controlling approaches still occur, and people are sometimes required to give up their rights and liberties—not all people are respected and welcomed citizens.
Organizations within the disability community, including institutional survivors, People First of Ontario, and the Council of Community Living Ontario, have organized Flying to Freedom to commemorate the closures, examine how we change attitudes and prevent people from being institutionalized, and commit ourselves to creating a fully inclusive society.
Taking place on Tuesday, March 19th at the Al Green Theatre (750 Spadina Avenue) in Downtown Toronto, there are two opportunities to join others from across the province to commemorate the 2009 closures and to discuss the steps being taken to move past institutional practices in the community:
1 PM – The Journey from Institutionalization
Hear and learn about engaging and diverse projects that are addressing institutionalization and supporting survivors and people who have an intellectual disability to lead meaningful lives in the community.
Click here to see the list of panels and to register.
6 PM – Birds Make Me Think About Freedom
Created by L'Arche Toronto's Sol Express, in collaboration with Victoria Freeman and Jumblies Theatre, Birds Make Me Think About Freedom reflects on our humanity inspired by the stories of people institutionalized for being labeled with developmental disabilities, their families, and friends. The play goes to dark places by touching on sensitive material regarding institutional mistreatment. However, it doesn't end there as it delves into thoughts and discussion on freedom, hope, choice and living on our own.
A reception will take place in the Jacobs Lounge immediately following the performance.
Click here to register.
Please note: While both events are part of Flying to Freedom, separate registration is required to attend each event.
Flying to Freedom is presented by survivors, People First of Ontario, Council of Community Living Ontario, members and friends of Community Living Ontario, the Miles Nadal Jewish Community Centre, and L'Arche Toronto.