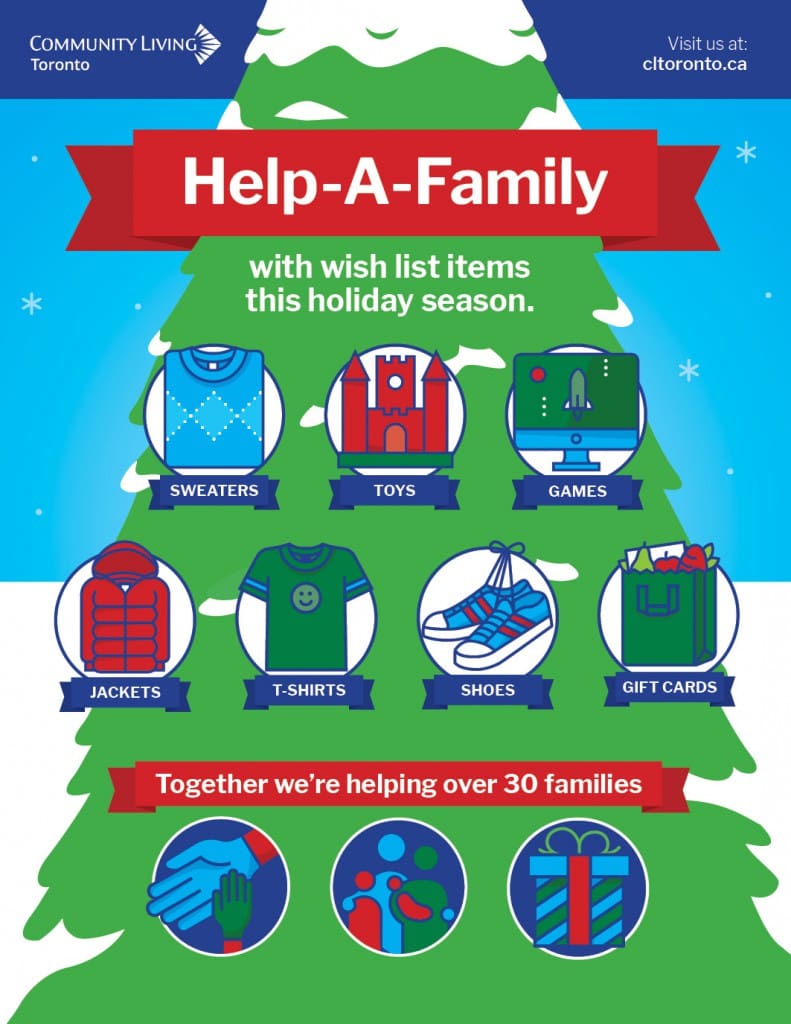 **DEC. 14, 2018 UPDATE**
We are thrilled to announce that all 30 families on this year's list have been helped! However there is still time to make a cash donation. Additional funds raised will go to individuals and families in our Adult Protective Service Worker (APSW) program who are in crisis.
Thank you to all the generous donors who have made the holiday season brighter for those in need!
*****************************************************************************************************************
This holiday season, over 30 families that are supported by Community Living Toronto's Adult Protective Service Worker (APSW) program have sent us their wish lists. They include much-needed items like winter jackets, scarves, and grocery gift cards, along with fun toys and games like Lego. Tis' the season for generosity – let's help these deserving families with their holiday shopping! You can purchase any of the items from their wish lists or simply make a donation online.
How You Can Help-A-Family:
Read each family's story and wish list. Read below or click on the PDF version here: HAF List 2018
Contact Emily Mahoney, Fundraising Coordinator, to let us know which family or families you would like to help! You can reach Emily at 437-997-3967 or send an email at: emily.mahoney@cltoronto.ca.
Go shopping or donate online! Follow this link  to donate directly online.
Arrange to drop your gifts off with James Holzbauer, Assessment and Referrals Coordinator for the APSW program, by phone:  647-725-1360 or by email:  jholzbauer@cltoronto.ca.
CELEBRATE! You just made the holidays brighter!
 Here is the list of family's in need this year:
Download the PDF version of this list here: HAF List 2018
Don't know who to choose? Simply donate to the fund by clicking here and we'll make sure every family has a surprise this holiday season.