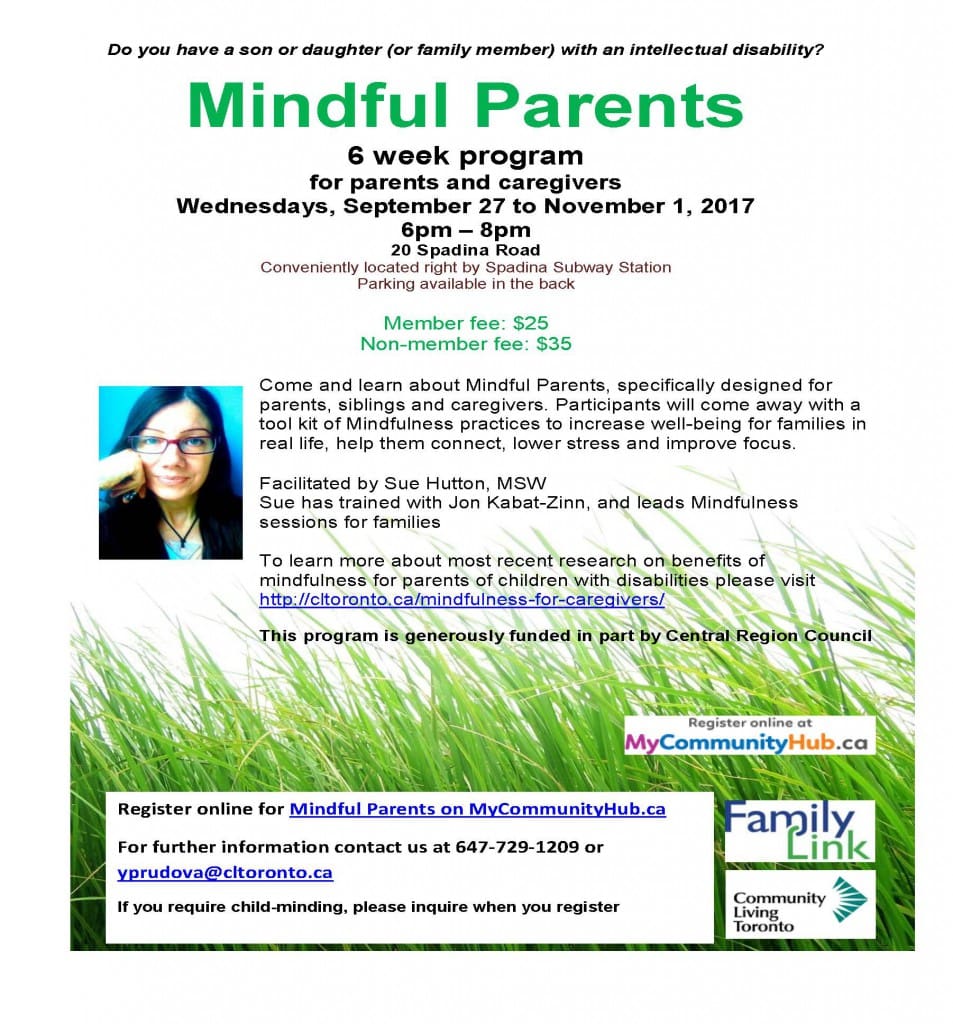 Here is the PDF version of this poster: MINDFUL PARENTS Fall 2017
Community Living Toronto is offering Mindfulness Caregivers sessions. The content of the sessions is the same curriculum used in the research study conducted by CAMH.
Come and learn about Mindful Parents, specifically designed for parents, siblings and caregivers.
MINDFULNESS FOR CAREGIVERS GROUP (6 SESSIONS)
Wednesday evenings this Fall 6pm – 8pm
September 27 – November 1
Location: 20 Spadina Road
This program is generously funded in part by the Central Region Council.
For further information you can contact Yulia Prudova, yprudova@cltoronto.ca
__________________________________________________________
New Study Shows Benefits of Mindfulness for Parents of Adult Children with Developmental Disabilities:
Community Living Toronto's Sue Hutton, BSW, MSW was recruited by CAMH Clinician Scientist Dr. Yona Lunsky to research Mindfulness as a coping technique for parents of a child with autism and other developmental disabilities. Sue has practiced Mindfulness for over 20 years, and has received professional training with Jon Kabat-Zinn, founder of Mindfulness-Based Stress Reduction at University of Massachusetts. Her knowledge of Mindfulness combined with her social work experience with families brings a perfect blend to caring for caregivers.
Read this News Release for more details: CARING FOR THE CAREGIVERS
Journal of Autism and Developmental Disorders Article
Metro Morning with Matt Galloway CBC Listen: Interview with Parent Lee Steele
Here is a 15 minute video from CAMH about the Mindful Caregivers groups:
Resources
For information about STEPS to Independence contact: Jennifer Steffler at jsteffler@cltoronto.ca