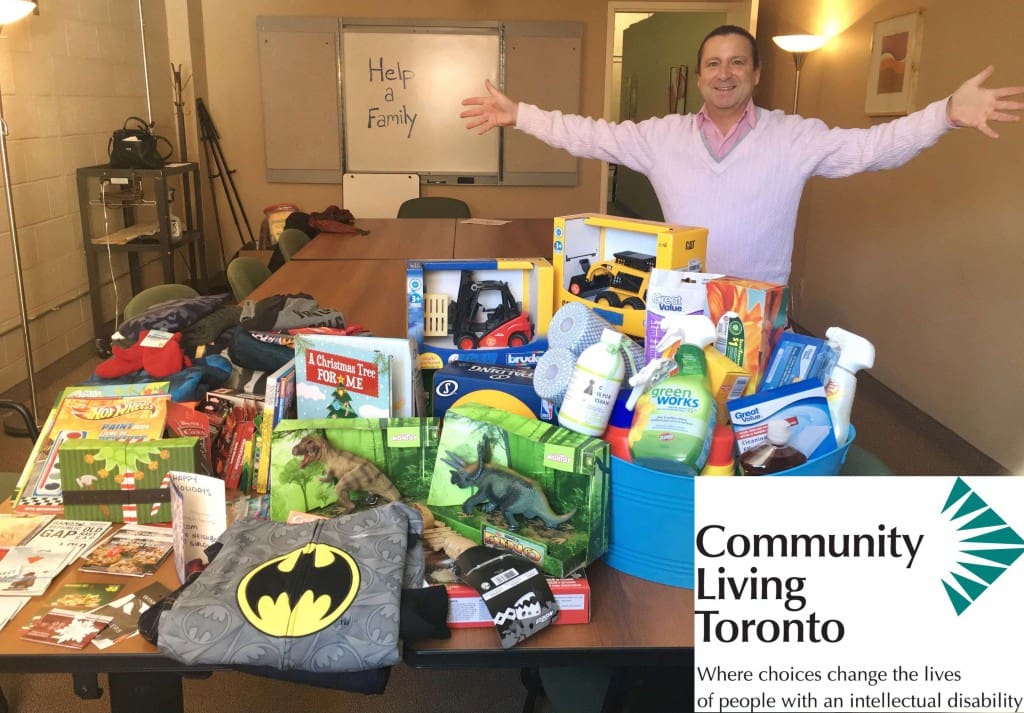 Here is James with the donations received by the Community Facebook Group "Guildwood 2.0″. All of these gifts in this photo went to a large family in need this holiday!
Sometimes it takes a Community…
With our Help a Family campaign at its close, we would like to thank everyone who helped make the holidays brighter for all of our families in need this year.  The Adult Protective Services program works hard to ensure that our most vulnerable individuals get the help and attention they need year round.   We were overwhelmed with joy on how successful our campaign was this year.  It was interesting to watch it unfold and see how people and communities work together to give these families a joyous holiday filled with love, kindness, and surprises.
With the power of social media, we had a Community Facebook Group work together to collect gifts for one of the bigger families we had on our "Help a Family" list.
Written by one of the administrators of the group, here is how their story of giving unfolded this holiday:
"Guildwood 2.0" is a Facebook group for the community of Guildwood, which sits along the Scarborough Bluffs.  It's an active, close knit, opinionated community, filled with families and friends that have both lived in Guildwood for years – and those who have just moved in.  After reading a few posts from people looking for ideas on how to give back this holiday season, the Admins of Guildwood 2.0 floated the idea of helping a family through Community Living Toronto.  It seemed to be popular, so the Admins posted a short post, with the wants and needs of a family, and waited to see what would happen next.  If the group wasn't interested, the admins were prepared to do their best to cover the selected family.  What happened, in the end, was an avalanche of generosity from the whole community.  Every day, new items from the family's wish list were dropped off.  Piles of clothes, toys, cleaning supplies, and a box filled with gift cards for groceries, treats, clothes and sporting goods were compiled.  Every time a Facebook post went up saying "Last chance!" another pile of donations poured in!  It was more than the Admins had hoped for.  The neighbourhood had banded together to show their love and support of a family in need.  And the entire group could not be more proud.  Hopefully, it will become an annual tradition with Community Living Toronto and Guildwood 2.0."
Although we are at the end of this campaign, we are still accepting donations for the families that may need our help last minute before the holidays, and in the following months.  With your donations, you really do make a difference in someone's life. It's not too late to give!